Bacteria, viruses, parasites, and other germs (microbes) cause many human diseases. Vaccines can help protect against some of these diseases. Vaccination (immunization) against infectious diseases saves millions of lives. Illness and death from diphtheria, pertussis, tetanus, measles, mumps, hepatitis, and other diseases can be prevented through immunization.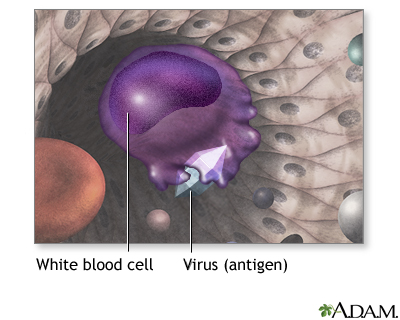 Your body is designed to protect you from infections. When you are exposed to a virus, bacterium, or other microbe, your immune system actually "learns" from the experience. The next time your body is exposed to the same microbe, your immune system often recognizes it and sets out to destroy it.
During immunization, you are exposed to an inactive/weakened microbe or a very small and safe amount of part of a microbe. Your body's immune system responds to the vaccine by making substances called antibodies. If you are exposed to the microbe itself at a later time, the antibodies will kill the microbe and prevent infection or you may have a milder infection.
Vaccine Forms
Most vaccines are given by an injection. Some can be taken orally (by mouth) or by a nasal spray. Vaccines contain one of four components that trigger an immune response:
Live but weakened virus. Live-virus vaccines provide longer immunity than inactivated ones. But they can cause serious infection in people with weakened immune systems. In rare cases, they have also been linked to other medical problems.
Inactivated bacteria and viruses. Inactivated vaccines are safe even for people with weakened immune systems.
Toxoid. This is an altered form of a harmful substance (toxin) released by certain bacteria. The toxoid in vaccines is changed so it is not harmful, but still produces an immune response.
Bacterial or viral component. Instead of containing a whole microbe, these vaccines contain only parts of the microbe that trigger an immune response.
Combination Vaccines
These are vaccines that combine more than one vaccine into a single injection (shot). Combination vaccines for diphtheria, tetanus, and pertussis (DTaP) and for measles, mumps, and rubella (MMR) have been available for many years.
New combinations that cover up to 5 vaccinations have been developed. They are safe and well-tolerated in infants as young as 2 months. For example, one such vaccine combines DTaP, hepatitis B, and the polio vaccines. It is as effective as the individual vaccines and is often used in order to minimize the number of injections (shots) given at one time.
Passive Immunity
Another form of protection against disease is called passive immunity. This approach uses immune globulin, which is a blood product containing antibodies. Immune globulin may be used for people who cannot be vaccinated, when immediate protection is required, or to prevent severe complications of the disease. In some cases, passive immunization interferes with active vaccinations, particularly live-virus vaccines. Therefore, these two immunization types are usually not administered within several weeks of each other. One exception to this rule is in the case of high risk exposure to rabies.
General Guidelines
Each year the US Centers for Disease Control and Prevention (CDC) issues updated immunization schedules for children and adults. A schedule is a list of recommended vaccines and timing of their doses. The current schedules can be found at: cdc.gov/vaccines/schedules/index.html. This article describes routine vaccines for children and adults.
Routine Childhood Vaccines
In the US, many vaccines are first given during infancy. Even most premature infants can be immunized on a routine schedule.
Experts recommend that all children through 18 years of age be routinely vaccinated against the following diseases:
Measles
Mumps
Rubella (German measles)
Diphtheria
Tetanus
Pertussis (whooping cough)
Poliomyelitis (polio)
Varicella (chickenpox)
Hepatitis B
Hepatitis A
Haemophilus influenzae type b (Hib, a cause of meningitis)
Human papillomavirus (HPV)
Influenza (flu)
Pneumococcal disease
Meningococcal disease
Rotavirus
Common Adult Vaccines
Vaccines against the following diseases are recommended for adults:
Influenza (flu)
Pneumococcal pneumonia
Hepatitis A
Hepatitis B
Meningococcal meningitis
Tetanus, diphtheria, and pertussis
Measles, mumps, rubella
Herpes zoster (shingles) vaccine
Human papillomavirus (HPV)
Varicella (chickenpox)
Vaccination Recommendations During Pregnancy
Inactivated-virus and toxoid vaccines are generally safe in pregnant women. Tdap is safe and recommended for all pregnant women in their third trimester to boost immunity across the placenta to the baby after birth. Other vaccines should be delayed until the second or third trimester. Because of possible risk to the fetus, live-virus vaccines should not be given to pregnant women or women likely to become pregnant within 28 days. The exception is women who need immediate protection against life-threatening diseases, such as yellow fever, which can only be prevented with live-virus vaccines. The live-virus MMR combination, which vaccinates against measles, mumps, and rubella, is not given to pregnant women because of risk of the live-rubella vaccine to the fetus. The injectable inactivated influenza vaccine (preservative-free subtype) is safe to administer to pregnant mothers during the fall and winter months prior to start and during the influenza season.


Click the icon to see an image of rubella syndrome.
Vaccination Recommendations for People with Compromised Immune Systems
Vaccines are not completely effective for people whose immune systems are compromised by disease or medications. Immune globulin is often given if there is a significant risk of infection. Live-virus vaccines are not usually given to people who have weakened immune systems due to illness or medication.
People who should not receive live-virus vaccines include:
Some people who have immune deficiency diseases
Advanced HIV/AIDS (typically CD4 counts <200 cells/microliter)
Patients with active leukemia or lymphoma.
Patients who are receiving treatments that suppress the immune system, such as corticosteroids, alkylating drugs, antimetabolites, or radiation. (Exceptions are discussed below under individual vaccines.) Corticosteroids taken for less than 2 weeks should not affect live-virus vaccination. People who need vaccines and take long-term or high-dose topical steroids should check with their health care providers.
Vaccine Safety and Side Effects
Some people worry that vaccines are not safe and may be harmful, such as for children. They may ask their provider to wait or even choose not to have the vaccine. But the benefits of vaccines far outweigh their risks. For example:
After immunizations were introduced on a wide scale, infections such as tetanus, diphtheria, mumps, measles, pertussis (whooping cough), and polio became rare. All of these illnesses can cause lifetime disabilities or even death.
Vaccines have also decreased certain types of meningitis, pneumonia, and ear infections in children.
Pregnant women may contract infections that can be very dangerous to their fetus or newborn. Vaccines reduce this risk.
High vaccination rates in a population confer what is called "herd immunity". The greater the proportion of people in a community getting vaccinated, the better protected is everyone in the community. Herd immunity reduces or stops disease transmission and thus reduces the risk of disease in those individuals who cannot receive the vaccine (such as pregnant women or people with a compromised immune system).
Autism
Scientific studies have shown that vaccines and their components do not cause autism. Based on this evidence, the American Academy of Pediatrics, the Centers for Disease Control and Prevention, and the Institute of Medicine all conclude that the benefits of vaccines outweigh their risks.
Thimerosal is a preservative that was used in many vaccines since the 1930s. Preservatives are necessary to prevent vaccine contamination with live organism in vials that are used for vaccinating multiple people. Now, all vaccines recommended for children, except one type of influenza (flu) vaccine, contain no thimerosal. Multidose inactivated influenza vaccine has only a trace amount of thimerosal. (A trace amount means that a dose of vaccine contains less than 1 part per million.) The single-dose flu vaccine does not have any thimerosal.
Autism is also not linked to the number of vaccines that children receive at a young age. From birth onward, children are exposed to substances called antigens that trigger an immune response. The number of antigens in vaccines is tiny as compared to the many antigens children are exposed to every day.
The single 1998 small sample, uncontrolled study claiming that autism is linked to MMR vaccination has been thoroughly debunked by several large, controlled epidemiological studies. The lead author of the 1998 study was found guilty of ethical violations and of deliberately falsifying the study data. Although that article was retracted, this false claim persists and is still being spread on the internet. To find out the facts, visit the Centers for Disease Control and Prevention page on this subject.
Getting the Actual Infection From a Vaccine
Unless a person's immune system is weakened, it is highly unlikely that a vaccine will cause an infection. Some vaccines, such as the measles, mumps, rubella (MMR), the chickenpox, the rotavirus, and the nasal spray flu vaccines contain live but weakened viruses. These vaccines should not be given to people who have weakened immune systems.
Adverse Events
Like many medications, there is always a chance a vaccine can cause adverse events. An adverse event is a health problem caused by a medical treatment. An adverse event is also called a side effect.
No vaccine is 100% safe. Allergic reactions and other side effects may sometimes develop. In the US, the government and other agencies monitor side effects from vaccines:
VAERS (Vaccine Adverse Event Reporting System) is a government service that registers all adverse events reported after vaccination, including those not related to the vaccine.
VSD (Vaccine Safety Datalink) is a linked database that analyzes the records of more than 5 million patients each year.
The CDC Clinical Immunization Safety Assessment Centers help providers evaluate and manage people who may have had a side effect from a vaccine.
The Center for Biologics Evaluation and Research (CBER) is the FDA center responsible for ensuring the safety, effectiveness, and availability of biological products.
Studies using these systems are ongoing and none to date have confirmed reports of any significant link between most vaccines and severe side effects that would outweigh their important benefits.
Helping Children Before, During, and After Vaccinations
Infants often accept the first shot (injection) easily, since they are not expecting any pain or discomfort. It gets more difficult, though, with each additional shot. Providing reassurance can help children of all ages tolerate immunizations. Here are some tips:
Do not lie and tell an older child that a shot will be painless. Some providers suggest telling your child that it stings a little, and to count to 5 while the vaccine is being administered. A cooling spray of water can help numb the skin before the shot.
Have your child take a deep breath right before the shot and blow out hard while it is being given.
For children under 12 months, giving a sweet fluid before the shot may help ease the pain. Sugar has been found to relieve pain in infants.
Ask the provider if you can give children's acetaminophen (Tylenol) or ibuprofen (Motrin, Advil) after a vaccination if your child has pain or fever. Do not give aspirin or medicine that has aspirin in it because aspirin can cause severe health problems in children.
When to Postpone Vaccination
If a person is ill with something more serious than a cold or develops a fever (if temperature is higher than 101°F [38.3 °C]), the vaccination may need to be scheduled for another day. Call your provider or immunization clinic for more information about this.