Lymphomas are malignancies of the lymph system that are generally subdivided into two groups: Hodgkin's lymphoma and non-Hodgkin lymphoma (NHL). Hodgkin lymphoma accounts for about 10% of all lymphomas, and NHL for the remaining 90% of lymphomas.
NHL is a term for malignancies that range from a very slow disease to an extremely aggressive but curable condition. They have certain features in common.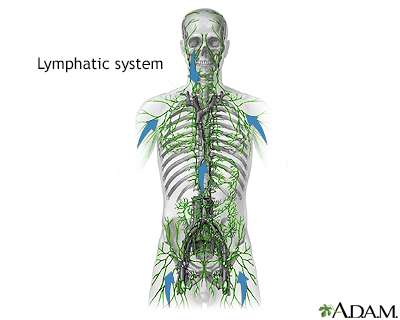 The lymphatic system filters fluid from around cells. It is an important part of the immune system. When people say they have swollen glands in the neck, they are usually referring to enlarged lymph nodes. Common areas where lymph nodes can be easily felt, particularly if they are enlarged, include the groin, armpits (axilla), above the clavicle (supraclavicular), in the neck (cervical), and the back of the head just above the hairline (occipital).
The Lymphatic System
Lymphomas, such as NHL and Hodgkin lymphoma, represent tumors of the lymphatic system. This system is a network of organs, lymphatic vessels, and nodes. The lymphatic system interacts with the circulatory system to transport a watery clear fluid called lymph that is similar to the blood plasma throughout the body. Lymph is mainly composed of interstitial fluid but also contains waste products, cellular debris, as well as lymphocytes, important white blood cells involved in defending the body against infectious organisms.
Lymphocytes
One of the most important components of lymph is lymphocytes, a type of white blood cells (leukocytes) that is an essential part of the immune system:
Lymphocytes develop in the bone marrow or thymus gland and are therefore categorized as either B cells (bone marrow-derived cells) or T cells (thymus gland-derived cells). They are transported throughout the body via blood.
Lymphatic vessels begin as tiny tubes transporting interstitial fluid away from tissues. These vessels lead to larger lymphatic ducts and branches traveling toward the heart until they drain into two ducts in the neck, where the lymph enters the bloodstream.
Along the way, the lymph passes through lymph nodes, oval structures composed of lymph vessels, connective tissue, and white blood cells. Here, lymphocytes are either filtered out or added to the contents of the node.
Both leukemia and lymphomas (Hodgkin lymphoma and NHL) are cancers of leukocytes (white blood cells). The difference is that leukemia starts in the bone marrow while lymphomas originate in lymph nodes and then spread to the bone marrow or other organs.
Lymph Nodes
In lymph nodes, lymphocytes receive their initial exposure to foreign substances (antigens), such as bacteria or other microorganisms. This exposure activates the lymphocytes to produce antibodies, which are immune system factors that target and attack specific foreign proteins (antigens). The size of a lymph node varies from that of a pinhead to a bean. Most nodes are in clusters located throughout the body. Important node clusters are found in the neck, armpit, and groin.
Other Structures in the Lymphatic System
The tonsils and adenoids are secondary organs composed of masses of lymph tissue that also play a role in the lymphatic system. The spleen is another important organ that processes lymphocytes from incoming blood.


Click the icon to see an image of the immune system structures.


Click the icon to see an image of Lymph tissue in the head and neck.
Locations of Non-Hodgkin's Lymphomas
NHL occur most often in lymph nodes in the chest, neck, abdomen, tonsils, and the skin. NHL may also develop in sites other than lymph nodes such as the digestive tract, central nervous system, and around the tonsils.
Non-Hodgkin's Lymphomas Categories
There are more than 30 distinct types of NHL. Lymphomas are categorized in several ways:
Indolent (slow-growing) or aggressive (fast-growing). Indolent and aggressive lymphomas are equally common in adults. Aggressive lymphomas are more common in children. Aggressive lymphomas tend to be more curable than indolent lymphomas.
B cell or T cell. About 85% to 90% of NHL are B-cell subtypes, 10% to 15% are T-cell subtypes, and less than 1% are NK-cell lymphomas. This report focuses on B-cell lymphomas.
B-Cell Lymphomas
The following are common types of B-cell lymphoma.
Diffuse Large B-Cell Lymphoma (DLBLC)
DLBCL is the most common type of NHL, accounting for about 30% of all NHL cases. It is an aggressive, fast-growing lymphoma that usually affects adults but can also occur in children. DLBCL can occur in lymph nodes or in organs outside of the lymphatic system. DLBCL includes several subtypes such as mediastinal large B-cell lymphoma, intravascular large B-cell lymphoma, and primary effusion lymphoma.
Follicular Lymphoma (FL)
FL is the 2nd most common type of lymphoma, accounting for about 20% of all NHL cases. It is usually indolent (slow growing), but about 20% to 50% of FLs transform over time into the aggressive DLBCL.
Mantle Cell Lymphoma
Mantle cell lymphoma is an aggressive type of lymphoma that represents about 7% of NHL cases. It can be a difficult type of lymphoma to treat. It is found in lymph nodes, the spleen, bone marrow, and gastrointestinal system. Mantle cell lymphoma usually develops in men over age 60 years.
Small Lymphocytic Lymphoma (SLL)
SLL is an indolent type of lymphoma that is closely related to B-cell chronic lymphocytic leukemia (CLL). It accounts for about 5% of NHL cases.
Marginal Zone Lymphomas (MZLs)
MZLs are categorized depending on where the lymphoma is located. Mucosa-associated lymphoid tissue (MALT) lymphomas usually involve the gastrointestinal tract, thyroid, lungs, saliva glands, or skin. MALT is often associated with a history of an autoimmune disorder (such as Sjögren syndrome in the salivary glands or Hashimoto's thyroiditis in the thyroid gland). MALT is also associated with a bacterial infection in the stomach (H pylori) and can be potentially cured by antibiotics when treated in its early stages. Splenic marginal zone lymphoma affects the spleen, blood, and bone marrow. Nodal marginal zone B-cell lymphoma is a rare type of indolent lymphoma that involves the lymph nodes.
Lymphoplasmacytic Lymphoma
Lymphoplasmacytic lymphoma, also called Waldenstrom's macroglobulinemia or immunocytoma, is a rare type of lymphoma accounting for about 1% of NHL cases. It usually affects older adults and most often involves bone marrow, lymph nodes, and spleen.
Primary Central Nervous System Lymphoma
This lymphoma affects the brain and spinal cord. Although it is generally rare, it is more common in people who have AIDS.
Burkitt's Lymphoma
Burkitt's lymphoma is one of the most common types of childhood NHL, accounting for about 40% of NHL pediatric cases in the United States. It usually starts in the abdomen and spreads to other organs, including the brain. A specific type of Burkitt's lymphoma that typically occurs in African children often involves facial bones and is associated with Epstein-Barr virus (EBV) infection.
Lymphoblastic Lymphoma
This lymphoma is more common in children, accounting for about 25% of NHL pediatric cases, most often boys. It is associated with a large mediastinal mass (occurring in the chest cavity between the lungs) and carries a high risk for spreading to bone marrow, the brain, and other lymph nodes.