Diagnostic Challenges
Diagnostic Difficulties in CAP
It is important to determine whether the cause of CAP is a bacterium, atypical bacterium, or virus, because they require different treatments. In children, for example, S pneumoniae is the most common cause of pneumonia, but RSV may also cause the disease. Although symptoms may differ, they often overlap, which can make it difficult to identify the organism by symptoms alone. The cause of CAP is found in only about half of cases.
Nevertheless, in many cases of mild-to-moderate CAP, the physician is able to diagnose and treat pneumonia based solely on a medical history and physical examination.
Diagnostic Difficulties with Hospital-Acquired (Nosocomial) Pneumonia
Diagnosing pneumonia is particularly difficult in hospitalized patients for a number of reasons:
Many hospitalized patients have similar symptoms, including fever or abnormal x-rays.
In hospitalized patients, sputum or blood tests often show bacteria or other organisms, but such agents do not necessarily indicate pneumonia.
Medical and Personal History
The person's history is an important part of making a pneumonia diagnosis. People should report any of the following:
Alcohol or drug abuse
Exposure to people with pneumonia or other respiratory illnesses (such as TB)
History of smoking
Occupational risks
Recent or chronic respiratory infection
Recent antibiotic therapy
Recent outpatient wound care
Home infusion therapy or dialysis
Recent travel
Exposure to birds, bats, or other animals
Compromised immune system
Physical Examination
Auscultation (Use of the Stethoscope) and Percussion
The stethoscope is the tool that the physician uses to listen to the body sounds, including chest sounds produced while breathing. Sounds that may indicate pneumonia include:
Rales, a bubbling or crackling sound. Rales often suggest pneumonia.
Rhonchi, abnormal rumblings indicating that there is sputum in the large airways.
A dull thud. The physician will use a test called percussion, in which the chest is tapped lightly. A dull thud, instead of a hollow drum-like sound, indicates certain conditions that suggest pneumonia. These conditions include consolidation (in which the lung becomes filled with fluid and pus) and pleural effusion (fluid build-up in the space between the lungs and the lining around it).
Pulse Oximetry
A pulse oximetry test can help determine if a person needs hospital care. A simple test using a device on the fingertip or earlobe, determines the amount of oxygen in the blood.
Laboratory Tests
Although current antibiotics can attack a wide spectrum of organisms, it is best to use an antibiotic that targets the specific one making a person sick. Unfortunately, people carry many bacteria, and sputum and blood tests are not always effective in distinguishing between harmless and harmful kinds. The Infectious Diseases Society of America/American Thoracic Society (IDSA/ATS) recommends diagnostic testing when it may impact the choice of antibiotic and in people with a high likelihood of accurate results (sicker patients). Many of these laboratory tests take 4 to 5 days or longer to complete, however, and therapy should be started before results are available.
Although viral pneumonia accounts for more than a third of CAP cases, it can sometimes be difficult to determine if the pneumonia is viral or bacterial in origin.
In severe cases, a doctor needs to use invasive diagnostic measures to identify the cause of the infection. These tests are not commonly performed in outpatients. Standard lab tests are used to help diagnose pneumonia.
Sputum Tests
A sputum sample may reveal the organism causing the infection.
The person coughs as deeply as possible to bring up mucus from the lungs, since a shallow cough produces a sample that usually only contains normal mouth bacteria. Some people may need to inhale a saline spray to produce an adequate sample. In some cases, a tube will be inserted through the nose into the lower respiratory tract to trigger a deeper cough.
The physician will check the sputum for:
Blood, which suggests an infection is present.
Color and consistency. If it is gray, green, or brown, an infection is likely.
The sputum sample is sent to the laboratory, where it is analyzed for the presence of bacteria and to determine whether the bacteria are Gram-negative or Gram-positive.
Blood Tests
The following blood tests may be performed:
White blood cell count (WBC). High levels indicate infection.
Blood cultures. Cultures are done to determine the specific organism causing the pneumonia, but they are accurate in only 10% to 30% of cases. Their use is generally limited to severe cases.
Detection of antibodies. Antibodies are immune factors that target specific foreign invaders. Antibodies that react with mycoplasma or chlamydia are not present early enough in the course of pneumonia to allow for prompt diagnosis by this method.
C-reactive protein or procalcitonin. Not generally recommended but may help identify which people with respiratory symptoms have pneumonia and need to be hospitalized. Procalcitonin may also help guide the clinician in the appropriate use of antibiotics.
Polymerase chain reaction (PCR). In some difficult cases, PCR may be performed. The test makes multiple copies of the genetic material (DNA) of a virus or bacteria to make it detectable. PCR is useful for identifying certain atypical bacteria strains, including mycoplasma and Chlamydia pneumonia. While expensive, a real-time PCR test may help quickly diagnose Pneumocystis pneumonia in HIV-positive patients.
Urine Tests
Urine antigen tests for Legionella pneumophila (Legionnaires disease) and S pneumoniae may be helpful in some people with severe CAP.
Invasive Tests
In critically-ill people with VAP, doctors have tried sampling fluid taken from the lungs or trachea. These techniques enabled the physicians to identify the pneumonia-causing bacteria and start the appropriate antibiotics. However, this made no difference in the length of stay in the ICU or hospital, and there was no significant difference in outcome.
Imaging Techniques
X-rays
A chest x-ray is nearly always taken on a patient admitted to the hospital to confirm a pneumonia diagnosis.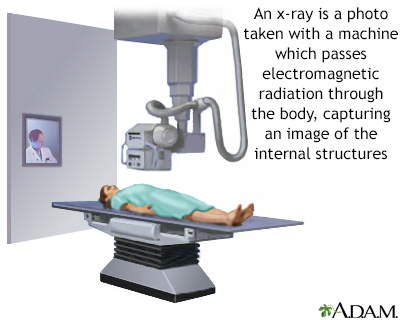 X-rays are a form of electromagnetic radiation (like light). They are of higher energy, however, and can penetrate the body to form an image on film. Structures that are dense (such as bone) will appear white, air will be black, and other structures will be shades of gray depending on density. X-rays can provide information about obstructions, tumors, and other diseases, particularly when coupled with the use of barium and air contrast within the bowel.
A chest x-ray may reveal the following:
Complications of pneumonia, including pleural effusions and abscesses
White areas in the lung called infiltrates, which often indicate infection
Other Imaging Tests
Computed tomography (CT) scans or magnetic resonance imaging (MRI) scans may be useful in some circumstances, such as when:
A lung tumor is suspected
Complications occur
People do not respond to antibiotics
People have other serious health problems
Pulmonary embolism is suspected
X-ray results are unclear


Click the icon to see an image of a CT scan.
CT and MRI can help detect tissue damage, abscesses, and enlarged lymph nodes. They can also detect some tumors that block bronchial tubes. No imaging technique can determine the actual organism causing the infection. However, features on the CT scan of people with certain forms of pneumonia -- for example that are caused by Legionella pneumophila -- are usually different from features produced by other bacteria in the lungs.
Invasive Diagnostic Procedures
Invasive diagnostic procedures may be necessary when:
People have AIDS or other immune problems
People have life-threatening complications
Standard treatments have failed for unknown reasons
Thoracentesis
If a doctor detects pleural effusion during the physical exam or from an imaging procedure, and suspects that pus (empyema) is present, a thoracentesis is performed.
Fluid in the pleura is withdrawn using a long thin needle inserted between the ribs.
The fluid is then sent to the lab for multiple tests.
Complications of this procedure are rare, but they can include collapsed lung, bleeding, and infection.
Bronchoscopy
Bronchoscopy is an invasive test to examine respiratory secretions. It is not usually needed in people with CAP, but it may be appropriate for people with a severely compromised immune system who need immediate diagnosis, or in people whose condition has worsened during treatment. In patients who need a breathing machine to breathe (severely ill) this procedure can be done via the existing breathing tube.
A bronchoscopy is done in the following way:
The person is given a local anesthetic, oxygen, and sedatives.
The physician inserts a fiber optic tube into the lower respiratory tract through the nose or mouth.
The tube acts like a telescope into the body, allowing the physician to view the windpipe and major airways and look for pus, abnormal mucus, or other problems.
The doctor removes specimens for analysis and can also treat the person by removing any foreign bodies or infected tissue encountered during the process.


Click the icon to see an image of a bronchoscopy.
Bronchoalveolar lavage (BAL) may be done at the same time as bronchoscopy. This involves injecting high amounts of saline through the bronchoscope into the lung and then immediately sucking the fluid out. The fluid is then analyzed in the laboratory. BAL is an effective method for detecting specific infection-causing organisms.
The procedure is usually very safe, but complications can occur. They include:
Allergic reactions to the sedatives or anesthetics
Asthma attacks in susceptible people
Bleeding
Fever
Lung Biopsy
In very severe cases of pneumonia or when the diagnosis is unclear, particularly in people with a damaged immune system, a lung biopsy may be required. A lung biopsy involves taking some tissue from the lungs and examining it under a microscope.
Lung Tap
This procedure typically uses a needle inserted between the ribs to draw fluid out of the lung for analysis. It is known by a number of names, including:
Lung aspiration
Lung puncture
Thoracic puncture
Transthoracic needle aspiration
Percutaneous needle aspiration
Needle aspiration
This is a very old procedure that is not done often anymore because it is invasive and poses a slight risk for collapsed lung. Some experts argue, however, that a lung tap is more accurate than other methods for identifying bacteria, and the risk it poses is slight. Given the increase in resistant bacteria, they believe its use should be reconsidered in young people.
An infectious disease specialist may need to be consulted in severe or difficult cases.
Differential Diagnosis
Common Causes of Persistent Coughing
The four most common causes of persistent coughing are:
Asthma
Long-term (chronic) bronchitis
Gastroesophageal reflux disease (GERD)
Postnasal drip
Other common causes of long-term (chronic) cough include heavy smoking or the use of blood pressure drugs known as ACE inhibitors.
Acute Bronchitis
Acute bronchitis is an infection in the passages that carry air from the throat to the lung. The infection causes a cough that produces phlegm. Acute bronchitis is almost always caused by a virus and usually clears up on its own within a few days. In some cases, acute bronchitis caused by a cold can last for several weeks.
Chronic Bronchitis
Chronic bronchitis causes shortness of breath and is often accompanied by infection, mucus production, and coughing, but it is a long-term and irreversible condition. The same bacteria and viruses that cause pneumonia can cause an infection in people with chronic bronchitis. However, infections involve only the airways leading to the lungs, and not the lung tissue itself. The 2 disorders may share the same symptoms, such as:
Coughing
Fatigue
Fever
Sputum production
There are significant differences between chronic bronchitis and pneumonia:
People with bronchitis are more likely to have wheezing, but less likely to have chills, very high fevers, and other signs of severe illness.
Those with pneumonia often cough up heavy sputum, which may contain blood.
X-rays of people with pneumonia show inflammation and other changes in the lung tissue that are not seen in people with chronic bronchitis.
Asthma
In asthma, the cough is usually accompanied by wheezing and occurs mostly at night or during activity. Fever is rarely present (unless the person also has an infection). Asthma symptoms from occupational causes can lead to persistent coughing, which is usually worse during the workweek. Tests, like the methacholine inhalation challenge and pulmonary function studies, may be effective in diagnosing asthma. Chest X-ray can also help in ruling out pneumonia.
Other Disorders that Affect the Lung
Many conditions mimic pneumonia, particularly in hospitalized patients. They include:
ARDS
Atelectasis, a partial collapse of lung tissue
Bronchiectasis, an irreversible widening of the airways that is usually associated with birth defects, chronic sinus or bronchial infection, or blockage
Heart failure (if it affects the left side of the heart, fluid build-up can occur in the lungs and cause persistent cough, shortness of breath, and wheezing)
Interstitial pulmonary fibrosis, a non-infectious inflammation of the lung that causes damage and scarring
Lung cancer
Severe allergic reactions, such as reactions to drugs
Tuberculosis
Ruling Out Causes in Children
Important causes of coughing in children at different ages include:
Asthma
Sinusitis in children 18 months to 6 years