Obesity is a medical condition in which a high amount of body fat makes it hard for a person's internal organs to work well. This can cause poor health. People with obesity are at risk for developing a number of health problems.
Three things can be used to determine if a person's body fat puts them at risk for developing obesity-related diseases:
Body mass index (BMI)
Waist size
Other risk factors or chronic diseases
The higher the BMI, the greater the risk for certain diseases, such as heart disease, stroke, high blood pressure, type 2 diabetes, obstructive sleep apnea (pauses in breathing during sleep), and arthritis.
The risk of heart disease, hypertension, stroke, gout, and type 2 diabetes rises sharply for women with waist-hip ratios above 0.85 and for men with ratios above 1.0.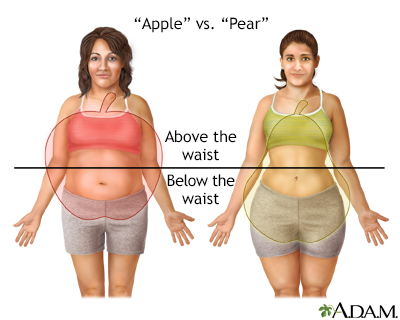 Weight gain in the area around the waist (apple type) is more dangerous than weight gained around the hips and flank area (pear type). Fat cells around the gut and abdominal organs (visceral fat) have different qualities than those found in the hips and thighs (subcutaneous fat).
Apple shape obesity is more commonly associated with insulin resistance and diabetes, high blood pressure, and unhealthy cholesterol and lipid levels.
General Adverse Effects of Being Overweight (Not Obese)
Being overweight or obese is generally associated with a shorter lifespan. However, it is still not clear if being overweight (a BMI of 25 to 29.9) harms healthy people with no risk factors for serious illnesses.
The risk for developing type 2 diabetes, gallstones, hypertension, heart disease, stroke, and various cancers rises according to how much an individual is overweight. Adults who are overweight in middle age face a poor quality of life as they age, with the quality declining the more they weigh.
Some argue that unhealthy diet and sedentary lifestyle cause the harm -- not the extra weight itself -- in people who are not severely obese.
Being slightly overweight (versus underweight) may be linked with a lower risk of mortality in the elderly.
Heart Disease and Stroke
People who are obese have almost three times the risk for heart disease as people of normal weight. Being physically unfit adds to the risk.
Obesity poses many dangers to the heart and circulatory system:
Obesity frequently associates with diabetes, high blood pressure, and obstructive sleep apnea, which all also increase the risk for stroke.


Click the icon to see an image of a coronary artery blockage.
Insulin Resistance, Type 2 Diabetes, and Metabolic Syndrome
Type 2 Diabetes and Insulin Resistance
Most people with type 2 diabetes are overweight or obese, and weight loss may be the key to controlling the current epidemic of type 2 diabetes. The common factor appears to be insulin resistance -- that is, the body can no longer respond properly to insulin. This has the effect of increasing sugar levels in the blood, the hallmark of diabetes.
Insulin resistance is also associated with high blood pressure and abnormalities in blood clotting. Some research indicates that obesity is the one common element linking insulin resistance, type 2 diabetes, and high blood pressure.
Metabolic Syndrome
Metabolic syndrome (also called syndrome X) is a cluster of conditions that is significantly associated with heart disease and higher mortality rates from all causes. The syndrome consists of obesity marked by abdominal fat, unhealthy cholesterol levels, high blood pressure, and insulin resistance.
Cancer
The American Cancer Society's (ACS) cancer prevention guidelines stress the importance of keeping a healthy weight throughout life. The ACS indicates that healthy weight is even more important than eating specific healthy foods when it comes to cancer prevention.
Obesity has been associated with a higher risk for cancer in, general and specific cancers in particular. Studies have also suggested that restricting calories reduces the risk for cancer.
One way in which obesity may increase the risk for cancer is its association with high levels of hormones called growth factors, which can trigger rapid cell production, leading to cancer.
Obesity increases the risk of these cancers:
Uterine cancer
Breast cancer
Prostate cancer
Cancer of the esophagus
Colon cancer
Pancreatic cancer


Click the icon to see an image of prostate cancer.


Click the icon to see a series on mastectomy.


Click the icon to see a series on colon cancer.
Joints
More weight puts pressure on the bones and joints. This can lead to osteoarthritis, a disease that causes joint pain and stiffness. People who are obese are also at higher risk for carpal tunnel syndrome and other problems involving nerves in their wrists and hands. Overweight individuals with knee osteoarthritis benefit from diet and exercise programs for weight loss, which can lead to less knee pain, and improved function and quality of life.
Reproductive and Hormonal Problems
Infertility
Abnormal amounts of body fat, either 10% to 15% too high or too low, can contribute to infertility in women. Obesity is especially related to certain infertility problems, such as uterine fibroids and menstrual irregularities. In men, obesity can contribute to reduced testosterone levels and erectile dysfunction.
Effect on Pregnancy
Obesity has many dangerous effects on pregnancy. These include a greater risk of developing high blood pressure, gestational diabetes (diabetes, usually temporary, that occurs during pregnancy), urinary tract infections, blood clots, prolonged labor, and higher fetal death rate in late stages of pregnancy. Obesity is also associated with increased rates of cesarean delivery. Infants of women who are obese are also at higher risk for neural tube birth defects, which affect the brain or spine, as well as other birth defects. Folic acid supplements, which are normally effective in preventing these conditions, may not be as protective in overweight women. Some evidence also suggests an association between obesity and stillbirths.
Effects on the Lungs
Obesity, especially moderate or severe obesity, also puts people at risk for hypoxia, a condition in which there is not enough oxygen to meet the body's needs. Obese people need to work harder to breathe. Their breathing muscles and lungs often do not work as well as those in thinner people.
Pickwickian syndrome, named for an overweight character in a Dickens novel, occurs in severe obesity when a lack of oxygen produces intense and chronic sleepiness and, eventually, heart failure.
Effect on the Liver
Nonalcoholic Fatty Liver Disease
People with obesity, particularly if they also have type 2 diabetes, are at higher risk for a condition called nonalcoholic fatty liver disease (NAFLD), also called nonalcoholic steatohepatitis (NASH). This condition can cause liver damage that is similar to liver injury seen in alcoholism. NAFLD occurs in about 80% of people with type 2 diabetes, and 90% of people with high risk obesity. NASH can also occur in overweight children.
Gallstones
The incidence of gallstones is significantly higher in people with obesity. The risk for stone formation is also high if a person loses weight too quickly. In people on ultra-low-calorie diets, taking ursodeoxycholic acid (Actigall) may prevent gallstones.


Click the icon to see an image of gallstones.
Sleep Disorders
People who are obese and who nap tend to fall asleep faster and sleep longer during the day. At night, however, it takes them longer to fall asleep, and they sleep less than people of normal weight. Studies have suggested that obesity not only interferes with sleep, but that sleep problems may actually contribute to obesity.
Obstructive Sleep Apnea
Obesity, particularly the apple shape, is strongly associated obstructive with sleep apnea, which occurs when the upper throat relaxes and closes from time to time during sleep. This closure temporarily blocks the passage of air. Obstructive sleep apnea is increasingly being viewed as a potentially serious health problem, which may lead to complications such as heart disease and stroke. Weight loss is often recommended to treat obstructive sleep apnea. Bariatric surgery is no better than conventional weight loss programs in managing obstructive sleep apnea.
Obstructive sleep apnea may also increase obesity. Some studies indicate that treating obstructive sleep apnea may help people lose abdominal fat.
Emotional and Social Problems
Depression
Several studies have reported an association between depression and obesity, particularly in obese women. There may be a number of factors to explain the link. In some cases of atypical depression, people overeat and may gain weight. Overweight people may also become depressed because of social problems and a poor self-image.
There does not appear to be any association between depression and obesity in men.
Social Problems
One long-term study reported that overweight young women completed fewer years of school, were 20% less likely to be married, and had 10% higher rates of household poverty than their thinner peers. Obese young men were also less likely to be married, and their incomes were lower than their thinner peers. Nevertheless, studies consistently show that overweight males (both boys and men) are not as severely emotionally affected as females of any age. Women and girls tend to blame themselves for being heavy, while males tend to blame being overweight on outside factors.
Health Consequences of Childhood Overweight
Children and adolescents who are overweight have poorer health than other children. Studies are reporting unhealthy cholesterol levels and high blood pressure in overweight children and adolescents. Of great concern is the dramatic increase in type 2 diabetes in young people, which is largely due to the increase in overweight children.
Weight gain in children is also linked to asthma, gallbladder problems, sleep apnea, and liver abnormalities. Overweight girls seem more likely to enter puberty early, and subsequently to be at higher risk for breast cancer. It is not yet clear how many of these childhood problems persist in people who achieve normal weight as adults. Staying overweight into adulthood carries health risks.